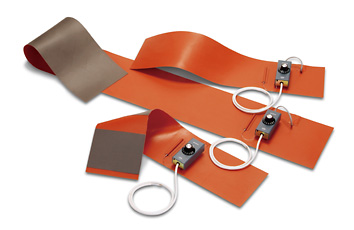 Because silicone rubber heater MG type (Neodymium) has magnet sheet on one side, it can be installed easily on any place where magnet adherence is available. Moreover, this can be installed/replaced easily for maintenance/alignment of the heater.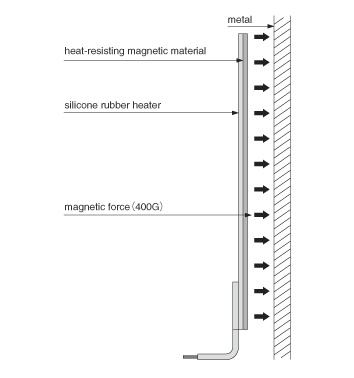 Different types of heaters such as round, triangle, or ones with holes offered at reasonable prices. Minimum order of one piece, with a quick delivery option.
High thermal response due to low thickness, with a standard thickness of 1.5mm.
Easy fit on cylinders, cones, and various curved surfaces because of its high flexibility.
Available from low temperature through 200°C [392°F].
Different designs including low voltage, 100V, 200V and 240V types available.
* (approximately 20 percent magnetic power degradation at 200°C [392°F].)

Heat tolerance
Heat Tolerance
200°C
Max temperature
250°C
Electric properties
Capacity Tolerance
±10%
Insulation Resistance
100MΩ or over/DC500V
Electric Strength
1500V/1min
Size
Max
450mm×3000mm
Min
25mm×50mm
Thickness
1.5mm
OT-9 Separated type
Pt100Ω Sensor
K Thermo-couple
OT-9 PRO
K Thermo-couple
EGO
0-40°C, 30-110°C, 60-200°C

| | |
| --- | --- |
| Bimetal Switch | 10°C-200°C Temperature preference |
| Thermal Fuse | 77°C-240°C Temperature preference |