Fullchance is an industry leading source for custom designed silicone rubber heaters. In addition to providing consistent, uniform temperatures, our heaters have a high dielectric strength that is resistant to moisture, chemicals, and acids found in various industrial environments. Our innovative and efficient manufacturing process allows us to produce complex shapes and contours to meet the exact requirements of your application under tight time and budgetary constraints.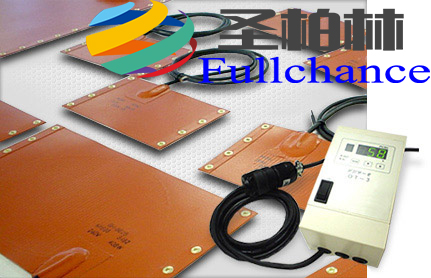 Constructed from copper-nickel and nickel-chrome alloy wire wound around a Kevlar thread core sandwiched between layers of fiberglass reinforced silicone rubber, our heaters are able to withstand temperatures up to 450°F. Measuring approximately .056" in thickness, we have the capacity to manufacture heaters in sizes up to 37" x 143" with no seams or splicing. Available in either single or multi-zone with voltages from 6V single phase to 480V 3-phase. We offer numerous temperature control options, including thermostats, thermal switches and thermocouples. Attachment options are also numerous and include Velcro, grommets, mechanical fasteners, pressure sensitive adhesives and more.
Our premium quality products perform with consistent reliability in a variety of applications, including composite curing, wafer manufacturing, fluid warming, and many other industrial processes. We have design engineers on staff ready to discuss your application and we offer the fastest turnaround times in the industry. Everything we produce is custom made to your exact specifications according to the highest standards of quality.
To learn more about our custom designed silicone rubber heaters, see the table below, or

contact us

directly with the details of your application.
Custom Silicone Heaters Capabilities

Product Name

Function



Flexible heater with high dielectric strength that is resistant to moisture, chemicals and acids.



General Capability

Custom Designed and Manufactured

Complex Shapes

Contours

Power Density

Options



Attachments

Velcro

D-rings

Grommets

Springs

Snaps

Boot Hooks

Mechanical Fasteners

Pressure Sensitive Adhesive

Silicone RTV

emperature Controllers

Thermostats

Thermal Switch

Thermocouple


Vulcanized to Customer Part
Leads & Plugs
Cold Bonding
Ground Screen

Material Construction

Copper-Nickel and Nickel-Chrome Alloy Wire Wound Around a Kevlar Thread Core

Temperature

Withstand Up to 450°F

Dimensions

Max: Up to 37" x 143" Without Splicing
Approximately .056" thick

Voltage

6 Volt Single Phase to 480 Volt Three Phase

Quality

In House Quality Assurance
Functionality Testing (Bench Testing)

Production Volume

Low to Mid Volume
Long Runs
Short Runs

Lead Time

3 to 5 Weeks (Approximately)
Rush Delivery May be Available
C
ustom Design, Engineering & Manufacturing of Silicone Rubber Heaters
We provide a wide range of flexible silicone heating products. But we can offer much more!
Our engineers are eager to test their know-how and solve your most challenging heating problems!
We are far to know everything, but we have been involved in more than 200 designs. Each of them was different;
each of them was a challenge; each was a custom designed solution!
Contact our sales team or use our form to communicate your needs.
We start with the problemdefinition


You have a heating problem,and
you needa flexible teamwith flexible
silicone solutions. We will help
you to define the
parameters we need to know and
offer you the best possible product:
working Temperature,
volumes/materials to be
heatedfixation, Temperature controls heating power
density.

when we find the solution!

Once your needs are defined,
our technical department will proceed
to the heater design. With our dedicated
software, we can design optimized heating
etched foil circuit.

Once the design is validated, we can produce
prototypes to prove the design and all the
applications you need.

Our lab is equipped with tools to
guarantee that the heater will no show hot
spots through thermography.

We help you to control the heat

Throughout our experience, we have come
to design some temperature controllers.
If you need a Temperature Control System,
ask our team, and we will help you or provide
you with a product that matches your needs.

We have a full range of
flexible heating solutions

A wide range of Fullchance heating products

Tailor-made drum heaters and tank heaters

No matter the shape if it can be done,
we will do it. Together, we will fulfill your
requirements and bring a solution to
your problem. We make custom
design for
each kind of problem.