Basic structure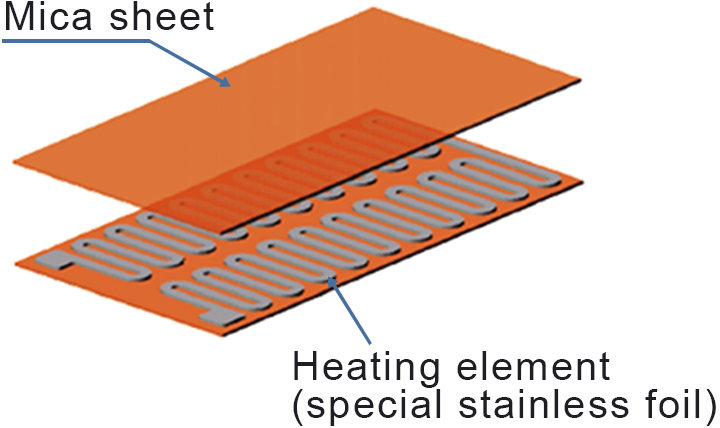 General specifications
Max. manufactuable size
Up to 1480 × 1500 (mm)
Heater heat resistance temperature
~500℃
Foil material
Special stainless foil
High temperature specifications
Max. manufactuable size
Up to 1480 × 1500 (mm)
Heater heat resistance temperature
~700℃
Foil material
Metallic foil
Electrical specifications
Dielectric strength voltage
AC1800V/min
Dielectric resistance
100MΩ or more(DC500V)
Resistance deviation
within ±10%(at cooling)
Others
Terminal treatment
Metallic foil exposure, eyelet, spot welding, stud bolt
Other
Supports dust proof treatment
Features
Fast response

High watt density and thin at about 1mm thickness giving low heating capacity enabling
rapid heating and cooling.

Homogeneous thermal distribution

Sheet shaped element gives more evenly distributed heat than a sheath heater.

High heating efficiency

Sheet shaped element gives higher contact area with heated objects for improved heating
efficiency.

Supports a wide range of shapes

Round, triangular, hole punched, notched and other machined shapes are supported to match
the heated object.
Applications
Industrial device

Mold heating, medical devices, semiconductor manufacturing equipment, LCD manufacturing
equipment and more