Silicone Heater
Our line of silicone heating mats can be your ideal heating solution. Depending on your application these heaters can us Etched Foil, Kapton or resistance wires laminated between sheets of silicone. The wire wound mats are ideal for prototyping or long term solutions for surface heating.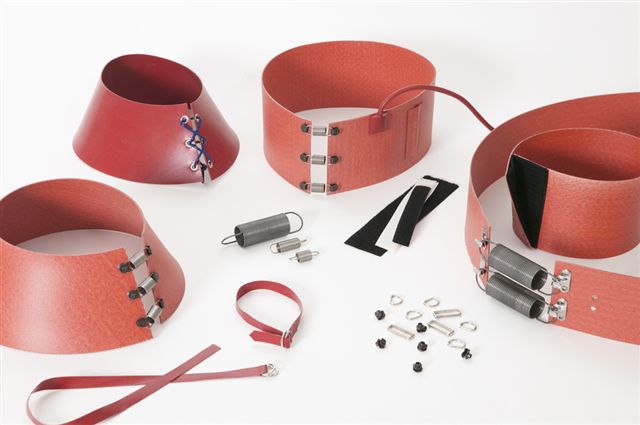 Types of Heaters
There are different ways and materials to construct a silicone heater with each their own advantage.
Etched Foil
The wire wound construction in mostly used for low volume
heaters. The results of a wire wound construction are the same compared with the etched foil construction.
Wire wound construction can be used for prototyping or testing, or when you only need one heater. These heaters are robust and flexible and available in any shape or size. Because of the flexibility these heaters can be used in many applications indoors else well as outdoors.
Fullchance has a lot of experience with these heaters and are able to make any kind of heater that will meet your needs. For more information please contact us.
Preformed Heaters Construction
For all cylindrical items such as pipes, tubes etc. it is possible to use preformed heaters. For small diameters it can be easier to make a preformed heater, than using a silicone heater mat. For more information please contact us.
Insulation
With some applications it can be wishfull to make the heater more efficient. This can be done by adding thick close-cell silicone foam to the heater. This optimizes the insulation value and thus the use of electric power.
Leads Exit and connection tab: Heater's power leads can be configured and an unheated lead exit tab can be added to the heater to eliminate cold sections or when used in a compression application to remove the bulge at lead exit area from between the plates.


Integrated Components and Accessories

A) Heater Installation (PSA, Field Applied Adhesive, Vulcanized silicone rubber,Laminated polyimide heaters, Mechanical Fasteners:)

Versatile flexible heaters allow a variety of mounting methods. Proper installation is crucial to heater performance. The heater must be in intimate contact with the heat sink, as any gaps can block heat transfer and cause a hot spot incurring premature heater failure.

Pressure Sensitive Adhesive (PSA): The simplest mounting method, with factory-applied PSA, you just remove the backing paper and press the heater in place.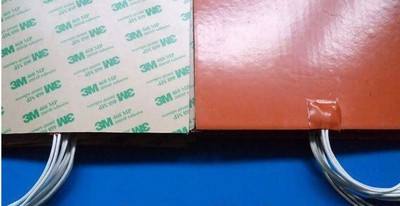 Field Applied Adhesive: Room temperature vulcanizing (RTV) silicone rubber adhesive is used for a superior permanent bond.
After applying a thin film between the heater and the surface, a roller should used to remove any air bubbles, and then allowed to cure for 24 hours.

Factory Vulcanization ( for Silicone heaters) and Lamination( for Kapton heaters): Silicone heater and kapton heater can be factory bonded to its mating metal without adhesives for permanent attachment and excellent heat transfer. Metal parts(heat sinks) can be manufactured by Fullchance or supplied by the customer. Enclosure heater is a typical example of factory vulcanization.

Mechanical Fasteners: Mechanical Fasteners are applied where heater installation is temporary.
The most common mechanical mounting methods are : spring hooks, Velcro, buckles and straps, boots hook and lacing, snap fastener.
| | |
| --- | --- |
| | |
B) Thermal Insulation
To increase heater efficiency, silicone sponge rubber or EPDM insulation can be bonded to the top side of the heater. Typical thermal insulation thicknesses are 5mm, 8mm, 10mm.
C) Temperature Control and Thermal Management
(Preset Built-in Thermostat, Adjustable Thermostat, Built-in temperature sensors(k,J thermocouples, RTD-PT100, digital controller)
Thermostats, temperature sensors, digital temperature controller and thermal fuses can be fabricated as an integral part of the heaters.
Pre-set Mechanical Thermostats:
Snap action and creep action are two different types of pre-set Mechanical thermostats. Both are based on a bimetal expansion-contraction principle and are pre-set to a specific temperature non-adjustable. Typical applications are freeze protection, enclosure temperature and high limit protection.They provide a low cost means temperature control. The thermostat is normally built in by wiring directly into the heater and enclosed in a molded silicone rubber/fiberglass housing on the heater permanently.
Electronic controller with sensor is suggested over the mechanical thermostat for precise temperature control applications.
Adjustable Mechanical Thermostats:
Adjustable Mechanical thermostats allow the user to set a specific temperature and attain a desired result. The thermostat is encapsulated in a silicone rubber overmold. Typical Adjustment Ranges Available are: 0~80 Deg C, 30~150 Deg C, 50~250 Deg C.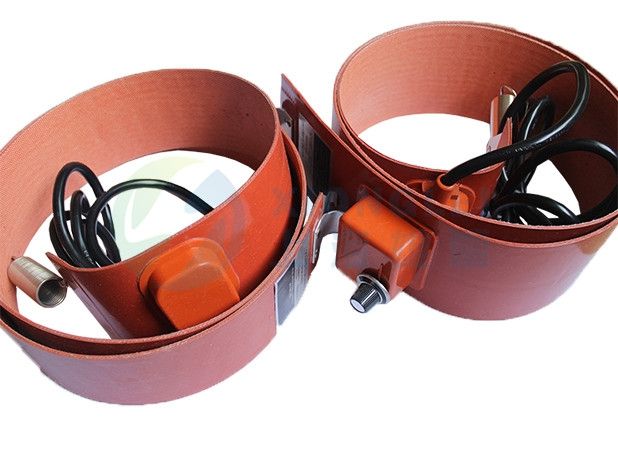 Buit-in Temperature Sensors:
Thermocouples, RTDs, and thermistors can be located to monitor temperature of either the heat sink (part being heated) or the heater surface itself. For silicone heaters, temperature sensors are held in place with a protective patch or probe pocket of silicone rubber/fiberglass vulcanized to the heater body while for Kapton® heaters they are affixed to the surface with epoxy.
Thermocouples:
Almost any type thermocouple can be applied at almost anywhere on the heater surface. Type "J" and "K" are most commonly employed.
Resistance Temperature Devices:
The RTD's resistance changes in a very linear relationship with its temperature and is considered the most accurate and stable sensor. Thin film PT100 or PT1000 are commonly used. They can also be encased in probes.
Thermistors:
Thermistors are also resistive-based temperature sensors but as they do not respond in a linear style, they are only used in a limited temperature range or at a specific single temperature.
Thermal Fuse:
Thermal fuses are a one time over temperature protection device that can prevent dangerous temperatures in the event of a control device failure. Testing is suggested to select the location and temperature setting of the fuse to protect your product most effectively.
Digital Temperature Controller:
Recommended for applications where precise temperature control is desired. A complete control option, ready to be used with plug and sensor fitted. NO MORE tedious wiring before precise temperature is possible.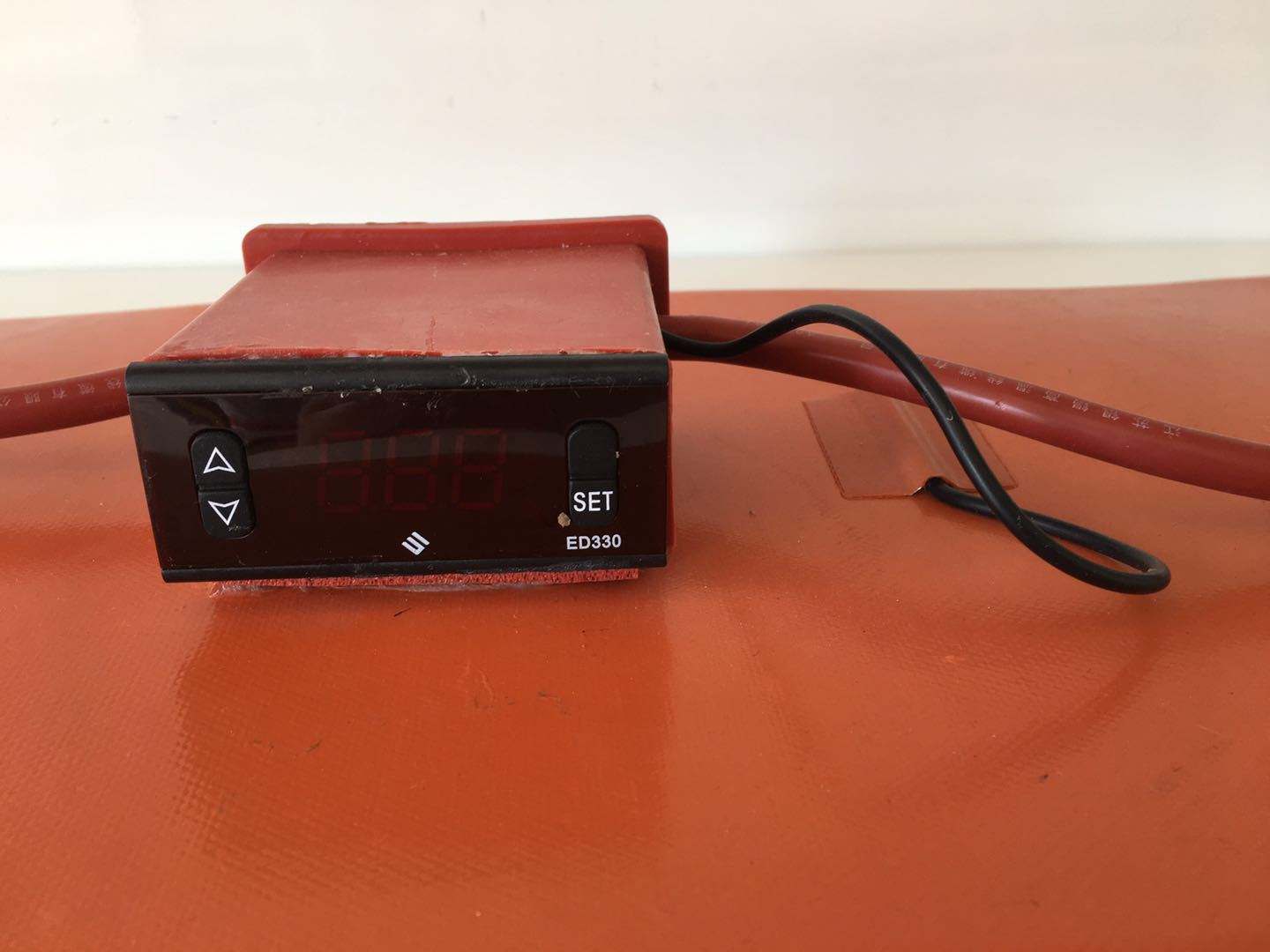 Produce Process
Profile of silicone rubber heater:
The wire-wound element process consists of resistance wire wound on a fiberglass cord for added support and flexibility. The wire-wound element is laid out in a special designed pattern to ensure uniform heat profile and to conform to the size and shape of the silicone rubber heater, avoiding holes and cutouts, or to concentrate the heat profile in a specific section(s) of the heater as the application dictates. Power lead wires or cord sets are attached to the heater windings with solder and firmly secured in place through a vulcanizing process, ensuring that the assembly becomes homogenous







The etched foil heater has exceptional heat transfer compared to wire wound elements, due to its large flat surface area. It can deliver more uniform heat profiles with higher watt densities, providing longer operating heater life. It can also be zoned with distributed wattage or separate heating circuits to compensate for load variations. The etched foil process is recommended for small size heaters in large quantities.
Etched Foil Silicone Rubber heaters are made with a thin metal foil (.001"), usually a nickel base alloy, as the resistance element. The resistance pattern to be etched is designed in CAD and transferred to the foil, which is laminated to the insulating substrate. The element/substrate is then processed through an acid spray to produce the desired resistance pattern. The top layer is then added and vulcanized for silicone rubber or laminated for Kapton heaters. For silicone rubber heaters, lead wires are then attached to the heater and insulated with additional silicone rubber to complete the heater. For Kapton® heaters, lead wires are attached to the heater and insulated with epoxy cement to complete the heater.
Silicone Rubber Heaters are the answer to many unique heating applications. The flexible heaters are capable of operating with excellent performance under many different conditions.
This type of heater is a reliable and economical heat source capable of providing uniform heat transfer to either flat or irregular shaped surfaces.
We can offer the best heater to suit your application in many different industries including; foodservice equipment, laboratory equipment, aerospace, medical equipment, semi-conductor manufacturing and much more.
We can also offer silicone rubber heaters as wire wound construction – typically for low volume and prototype work and as etch foil construction – for medium to high volume orders. If you are looking for rapid heat up time or a lightweight solution for your surface heater, we can offer kapton heaters.
can be used at a temperature range between -60 and +230oC

Maximum width 940mm

Maximum length 3000mm

Nominal thickness 0.8mm – 3.00mm

Lead Exit A
Exit together, centered on heater width


Lead Exit C
Exit together, to one side of the heater width

Lead Exit D
Exit opposite ends, centered on the heater width









ELECTRICAL TERMINATIONS


HPN Cord
For portable heaters, a two-conductor neoprene cordset can be vulcanized to the heater in any desired length.


SJO Cord
For industrial applications, SJO heavy duty power cords can be attached to the heaters in any desired length.



Crimp connectors
Crimp Connectors: insulated or non-insulated
Ring Terminal
Spade Terminal
1/4" Female Straight Disconnect
1/4" Female Right-Angle Disconnect
Miniature Connectors: example – Molex

Plugs
Standard 120 or 240 Vac – straight blade
Twist locking plugs, 120 to 480 Vac
Specify NEMA or manufacturer's part number
Sleeving
 Various materials can be put over Teflon® or Silicone Rubber leads to provide mechanical or abrasion protection. The leads exit the heater as a single unit.
Silicone Rubber/Fiberglass Sleeving (356°F/180°C)
Heat Shrink SleevingMOUNTING METHODS
MOUNTING METHODS


Field Applied Adhesive
For a field applied permanent bond, a room temperature and ambient humidity curing silicone rubber adhesive is recommended. Fullchance offers two types that will retain physical and electrical properties up to 500°F (260°C).
When using RTV adhesive, cover the heater completely with a thin layer of RTV, position the heater in place, and use a small roller to remove air bubbles, which could cause hot spots and lead to premature failure of the heater.


Velcro Straps
Mechanical fasteners are available for applications where flexible heaters must be detachable from cylindrical parts.

Boot Hooks and Springs
Mechanical fasteners are available for applications where flexible heaters must be detachable from cylindrical parts.

Grommets and Lacing Cord
Mechanical fasteners are available for applications where flexible heaters must be detachable from cylindrical parts.

Clamping
Flexible heaters may be applied by clamping or compression between two rigid materials. The plate surfaces must be ground reasonably smooth. Care must be taken not to damage the heater or pierce the insulation. Mill out an area or cutout in the top plate for the added thickness of the lead exit area.
Recommended Maximum Pressure:
40 PSI

SENSOR OPTIONS

Thermocouple
Fullchance can incorporate common Type J or K thermocouples almost anywhere on the heater surface. Other thermocouple types can also be used. Standard thermocouple temperature ranges apply. Specify when ordering. See Temperature Sensors for optional plugs.


No Temperature Sensor
A temperature sensor is not needed for this heater.


TEMPERATURE CONTROL OPTIONS

Snap Action Thermostat - Automatic Reset
Quick cutout on rise to temperature. The contacts will open on rise when the temperature increases to the snap point of the calibrated bimetal disc.
Setpoint (opens): available from 50 to 450°F in 10°F increments (most thermostats close 20 to 30°F below setpoint)
Electrical Ratings: 125 Vac, 15 Amp, 1875W, 250 Vac, 10 Amp, 2500W
Minimum Heater Width: 1.312"



Snap Action High Limit Thermostat
A High Limit with a manual reset push button can also be designed in.
Specify when requesting a quote.
NOTE:
See page 13-83 for stock temperature ratings

ADDITIONAL OPTIONS

Internal Ground Screen Plane
Some applications may require the heater to be grounded. Due to the fact that the heater sheath is non-conductive, this can only be done artificially. A second layer of insulating material and a conductive grid can be added to the heater. A ground wire is attached to the grid.
A less expensive alternative for setting up a ground wire, especially for the required ground lead of a cordset, is to have a "flying ground lead" (6" long, green) exit the lead patch for attaching to the metal load surface, effectively grounding the process.


Self-Limiting/Self-Regulating
The alloy used for this heater's resistance wire has a high positive temperature coefficient of resistance that allows the heater to reduce power as temperature increases. This self-regulating feature is ideal for many low temperature applications. This feature can also be beneficial when a fast start-up time is required before the heater power levels off to normal
operating temperature.
See Chart for Ratio of Hot to Cold Resistance of the Heater wire at various wire temperatures.


Multiple Zones
Multiple circuit areas can be zoned to compensate for various heating effects desired. In the picture above there are three zones with separate leads (A, B, and C).