Application
* for Oil Drum
* for Honey Tank
* for Any Metal Column and Metal Barrel warming
* for LBC container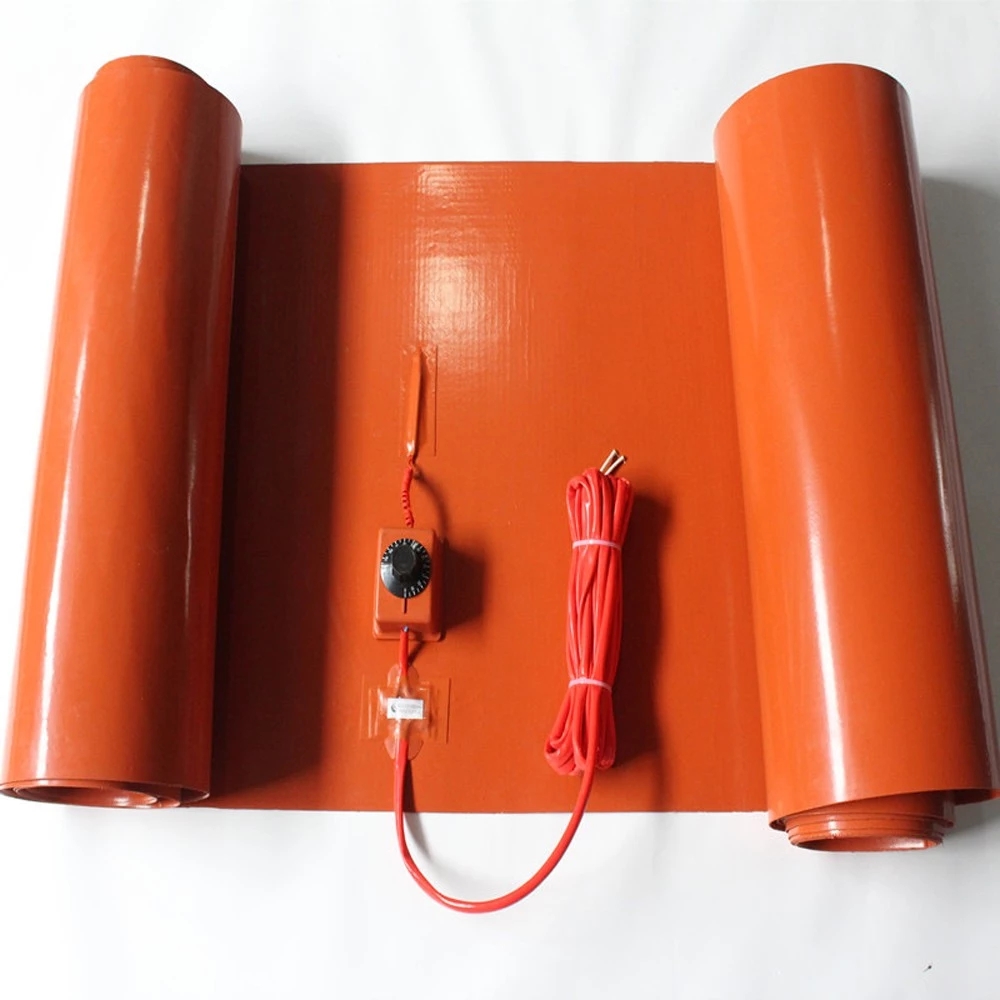 Features

• Quick heat transfer
• Moisture and chemical resistant
• Thin
• Flexible
• Solidly built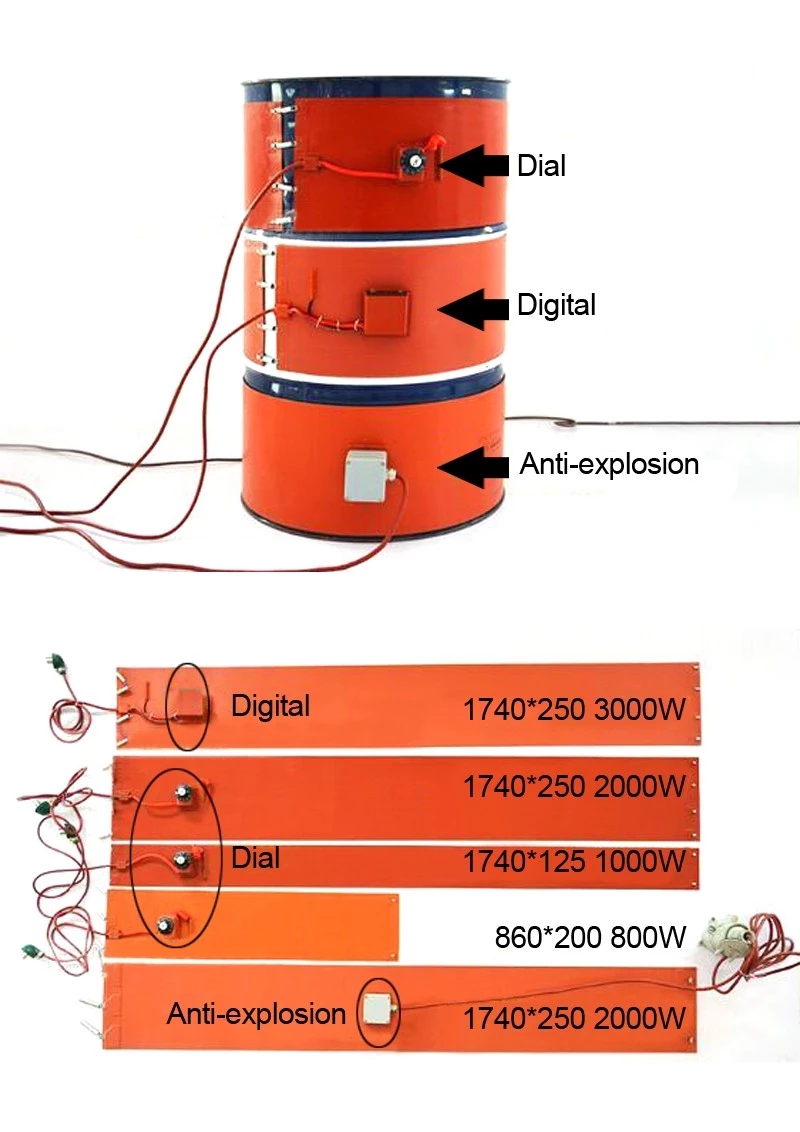 Flexible Silicone Drum Heaters
Standard Size for Drum Heater
| | | | | |
| --- | --- | --- | --- | --- |
| Volume | 200 Liter | 20 Liter | 200 Liter | 200 Liter |
| OD(oil barrel) | 580mm | 300mm | 580mm | 580mm |
| Heater Size | 250x1740mm | 200x860mm | 125x1740mm | 150x1740mm |
| Voltage & Wattage | 200v/2000w | 200v/800w | 200v/1000w | 200v/1000w |
| Adjusted Temperature | 30-150 °C | 30-150 °C | 30-150 °C | 30-150 °C |
| Net Weight(kg)/pc | 1.8 | 1.2 | 1.3 | 1.4 |
| Waterproof | IP68 | IP68 | IP68 | IP68 |
Fullchance Heating design and manufacture a range of flexible silicone drum heaters suitable for use on 200 litre metal or plastic drums and 60 and 20 litre drums and pails.
Flexible silicone drum heaters are specifically designed to reduce the viscosity of products or melt solids so they can be poured. These can be used with other Fullchance Heating products such as a drum insulated jacket for greater heating efficiency and/or a drum base heater in situations where the drum and product will accept additional heat.
Features
Tough, long-lasting, and resistant to oil and chemicals.

Rapid heat-up due to direct contact with the drum, and are fitted with a pre-set thermostat set at 32°C, 42°C or 52°C.

Additional over-temperature thermostat for safety.

Manufactured and tested in accordance with

AS/NZS 3100.
Construction
‍Made from high-quality fibreglass reinforced silicone sheeting.

Fitted with a 2m power cord and 3-pin plug.

Standard with eyelets and lacing rope. Over-spring toggles option available for the 200L metal drum model.

Can be used with an Fullchance digital PID controller for precise temperature control.
Applications
Viscous fluid

Grease

Fats

Paints

Chemicals

Fruit concentrates

Inks

Adhesives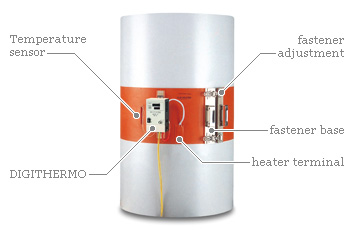 This heater has been specifically designed to facilitate easy pumping of various viscous materials from a drum.
Heating adhesives, grease, asphalt, paint, wax, oil and various resinous materials results in a constant viscosity, maximizing pump efficiency.
This heater can be used regardless of seasonal and climatic changes.
High heat efficiency, due to the addition of a stainless steel backing, which can directly transfer heat to the can.
Temperature controller is located directly on the heated surface, increasing precision of temperature control.
Handling is easy due to the integrated design of the silicon rubber heater and a temperature controller. Additionally, very easy installation is provided with one-touch clamp.

| | for Drum (200L) | for Pail can (20L) | for Itto can (18L) |
| --- | --- | --- | --- |
| Size | 250mm×1780mm | 200mm×860mm | 250mm×900mm |
| Power Input | 200V 2000W | 200V 800W | 200V 1000W |
| Temperature Control | 0-200°C Variable | 0-200°C Variable | 0-200°C Variable |
| Weight | approx. 5kg | approx. 4kg | approx. 5kg |

OT-9 Separated type
Pt100Ω Sensor
K Thermo-couple
OT‐9 PRO
K Thermo-couple
EGO
0-40°C, 30-110°C, 60-200°C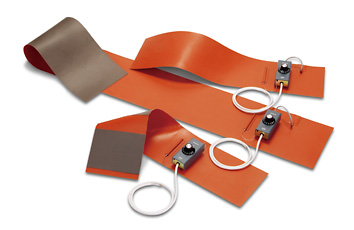 Because silicone rubber heater MG type (Neodymium) has magnet sheet on one side, it can be installed easily on any place where magnet adherence is available. Moreover, this can be installed/replaced easily for maintenance/alignment of the heater.
Different types of heaters such as round, triangle, or ones with holes are offered at reasonable prices. Minimum order is one piece, quick delivery is available.
Compared with the old type, low price has been achieved by decreasing parts such as fasteners, hooks, and springs.
Heater thickness is as thin as 1.5mm, with excellent response. (Thickness can be customized by stacking sheets.)
Can easily be fitted to cylinders, cones, and various curved surfaces because of its high flexibility.
With rich experience, we can offer the most optimized heating/insulation for many applications. *1
Available from low temperature to 200°C [392°F] . *2
Different designs including low voltage, 100V, 200V and 240V type are available.
*1 (For customization of the magnetic sheet application, do not hesitate to contact us. You are always welcomed.)
*2 (approximately 20 percent magnetic power degradation at 200°C [392°F] .)

for Drum (200L)
for Pail can (20L)
for Itto can (18L)
Size
250mm×1780mm
200mm×860mm
200mm×865mm
Power Input
-
100V 600W
100V 450W
Power Input
200V 2000W
200V 600W
200V 450W
Temperature Control
0-40°C, 30-110°C, 60-200°C Variable
Weight
approx. 2.2kg
approx. 1.1kg
approx. 1.4kg
Overtemperature protection
Thermal fuse 184°C is on the surface of the heater

EGO Integrated type
0-40°C, 30-110°C, 60-200°C
OT-9 Separated type
Pt100Ω Sensor
K Thermo-couple
OT‐9 PRO
K Thermo-couple
Integrated type : integrated with the heater.
Separated type : heater and controller are separated from each other.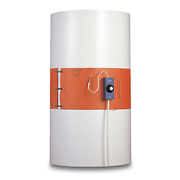 Lightweight without stainless plate, installed with hook springs.
Size : 250mm×1780mm
Power Input : 200V 1400W