Epoxy resin Heating Pad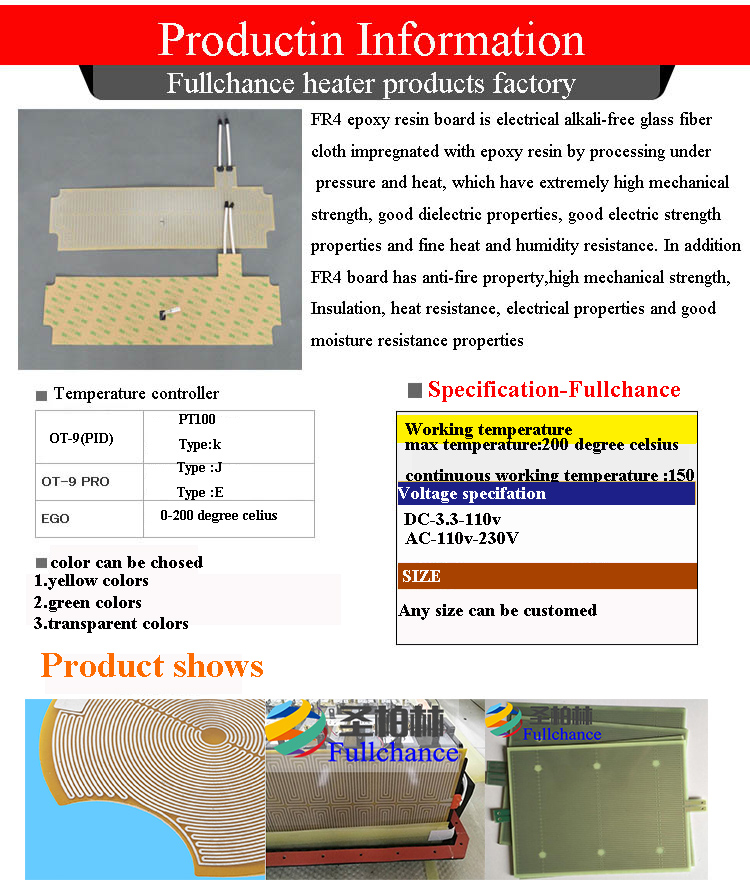 1440 epoxy resin heating plate uses epoxy resin as insulator, metal foil /nano-paste as internal conductive heating element, and is made of high temperature and heat compound. Epoxy resin heating plate has excellent insulation strength and excellent voltage resistance performance, excellent thermal conductivity, excellent resistance stability, newly developed products in 2014 are now widely used in the field of electric heating.
Heater Description:
Ultra-thin, only 0.2mm , small footprint

The resistive circuit has a uniform arrangement, a small thermal inertia, close contact with the heated body, and a rapid temperature increase. Extremely low saturated vapor pressure with insulating materials, low gassing

The product is hard plate, easy to install, with double-sided can be directly affixed to the surface of the heated body

High insulation performance, can withstand 3500VDC high voltage test, use more safely
1440 Epoxy Heater with high mechanical strength, can be made into any shape according to customer requirements

1440 epoxy resin heating plate has high-strength insulation and pressure resistance, as well as good moisture resistance, and has unparalleled advantages in safety performance.

1440 Epoxy resin heating plate is made of epoxy resin glue, which has stronger composite strength than traditional hard insulation plate. It will not appear in long-term use, stratified bubble, etc. It is a hard heating plate.

1440 epoxy resin heating plate without heating when heating, metal foil and epoxy resin adhesive firm and flame-retardant properties, safe and reliable use.

1440 epoxy resin heating plate thickness can be customized according to the need for the thinnest 0.2mm, and finally can reach 3mm or even thicker, according to the user can customize the thickness you want when installing

1440 epoxy resin can be self-adhesive PSA, easy and quick installation.

1440 Epoxy Resin This series of products is safe, reliable and has a long service life
1440 epoxy resin heating plate is resistant to mechanical strength, excellent insulation pressure resistance, moisture resistance, flame retardant and other characteristics in the medical instrument insulation, in the industrial machinery heating, new energy battery pack preheating insulation and other fields have irreplaceable advantages.
Customization need the important parameters below:
1.Did you use this product before?(our company accepted customized/OEM service)
2.customized parameters:product standard/(allotype need provide CAD1:1 drawing)
3.customized parameters:product application
4.customized parameters:The position of product lead wire
5.customized parameters:ambient temperature
6.customized parameters:product working temperature
7.customized parameters:Do you need attemperator/thermostat?
8.customized parameters:Do you need adhesive?