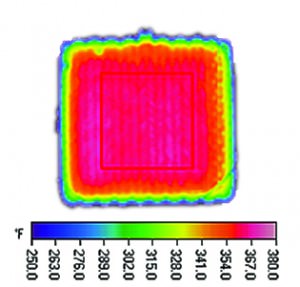 Heat testing with infrared camera
Many printed Flexible heater assembly defects cannot be identified easily using conventional methods. For this reason we use thermographic cameras when inspecting these components in our luminaires.
A thermographic camera or infrared camera is a device that forms an image using
infrared radiation
, similar to a common camera that forms an image using
visible
light. Instead of the 450–750 nanometer range of the visible light camera, infrared cameras operate in wavelengths as long as 14,000 nanometers.
Flexible heater
infrared analysis
All objects emit electromagnetic energy in a broad spectrum of wavelengths and in an amount that is proportional to their temperature. As the temperature of an object increases, the amount of electromagnetic energy it emits increases.
The quality of a repair can, in many cases, be traced back to the quality of the cure. A heat blanket that provides temperature uniformity over the entire surface is a key step in the repair process to have a favorable result.
Thermal mapping is becoming the quality standard for many maintenance facilities. The Commercial Aircraft Composite Repair Committee (CACRC) refers to SAE Document ARP 5144 Section 7, which states specific recommendations for the handling, maintenance, and thermal testing of heat blankets.
At Fullchance, our testing follows the recommendations of the SAE Document ARP 5144. We are also authorized and formally recognized as a delegated supplier of Thermal Uniformity Testing qualified per Appendix A of Boeing Specification D6-56273.
This additional quality process can be specified for most of your silicone rubber heat blankets at an additional charge and includes the following services:
Supply of heat blankets that are pre-qualified
Qualification and re-qualification services for Fullchance heat blankets