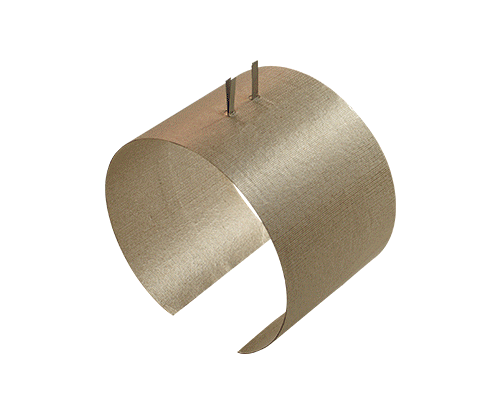 Products Index
>>
Flexible heating elements
>
Mica Heating Element(-200~1000℃)
Mica Heating Element(-200~1000℃)
Mica heating pad can be applied with back adhesive throughout the heating surface, safe and fast for the heating curve of the product. The construction of the ultra-thin film heating pad possesses tensile strength and high temperature resistance, and can achieve an excellent heating effect in a harsh environment. It can achieve the high voltage resistant test of insulation and can be integrated into a metal mold with higher efficiency of heating instead of the heating methods of conventional heating pads and heating tubes.
Mica heating pad is applicable to various home appliances, industrial machine equipment, molds and jigs of low and medium temperatures for fitting in with various type of high temperature resisting insulation materials.
Specifications and features
♦ Wattage:available for more than 0.1w
♦ Temperature range:-200〜1000℃(-328〜1832℉)
♦ The maximum temperature:1000 ℃
♦ Steady temperature:600 ℃
♦ Dielectric strength: 1000 VEMS.
♦ Maximum strength exceeding element:0.017" (0.43mm)
♦ Wattage in air (inch²) (25℃/77ºF): 100w / inch²
♦ Softness :Good:0.006"(1.52mm)minimum curve radius.
♦ Installment method:insulation material: retractable belt, heat-resistant cement and #10 pressure-sensitive adhesive.
♦ Functions:heating, warming and dehumidifying.
♦ Uses:Electrical appliances and medical instruments.
Electrical Features
Voltage input: 1.5V~ 440V can all be designed.
Power consumption: 0.01W~15W/C㎡.
Dimensions: The maximum width is 1.2M.
The maximum length (unlimited) can be depending on your demand.
The minimum thickness is 0.4mm±10%.
It is very fast and safe for the heating curve on the surface of the whole heating object with a construction of an ultra thin film heating element, tensile strength resistant and high temperature resistant, and also achieves an excellent heating result even in a severe environment. This product can complete the voltage resistant test of insulation, and can integrated with the metal mould with a better heating effect.
Applicable to water heater, iron, mould process, sealing machine for foodstuff machine, heating stove, warming saucer, etc.
This heating element can be customized as per your requirements.
We welcome your inquiry. Thank you for taking the time to visit us online.
INSULATION COMPARISON
The insulation materials on the following list are available for FLEXIBLE HEATERS. Other materials are also available if you need higher temperature, qreater dielectric strength or other special properties.
INSULATION MATERIALS

Kind of heating pad

Polymide Film

SiliconRubber

Mica

Polyestr Heating Pad

Transparent Film

HEATER




PROPERTIES

0.002" Kapton with 0.001" FEP adhesive

0.008" SILICON RUBBER with glass
reinforce

Mica Heating Element 0.1mm~1mm thickness

0.005"




POLYESTER with




0.001" epoxy




adhesive

0.005"




Transprent

with




0.001" epoxy




adhesive

COLOR

Transparent,
amber-color.

Red

Transparent
film

Transparent
film

Transparent




film

TEMPERATURE
RANGE

-240 to 310℃
(-400 to 590℉)

-200 to 300℃
(-328 to 572℉)

-200 to 1000℃
(-328 to 1832℉)

-25 to 120℃
(-13 to 248℉)

-25 to 120℃




(-13 to 248℉)

DIELECTRIC
STRENGTH

1000 VRMS

1000 VRMS

1000 VRMS

1000 VRMS

1000 VRMS

Max. thickness over element

Maximum wattage