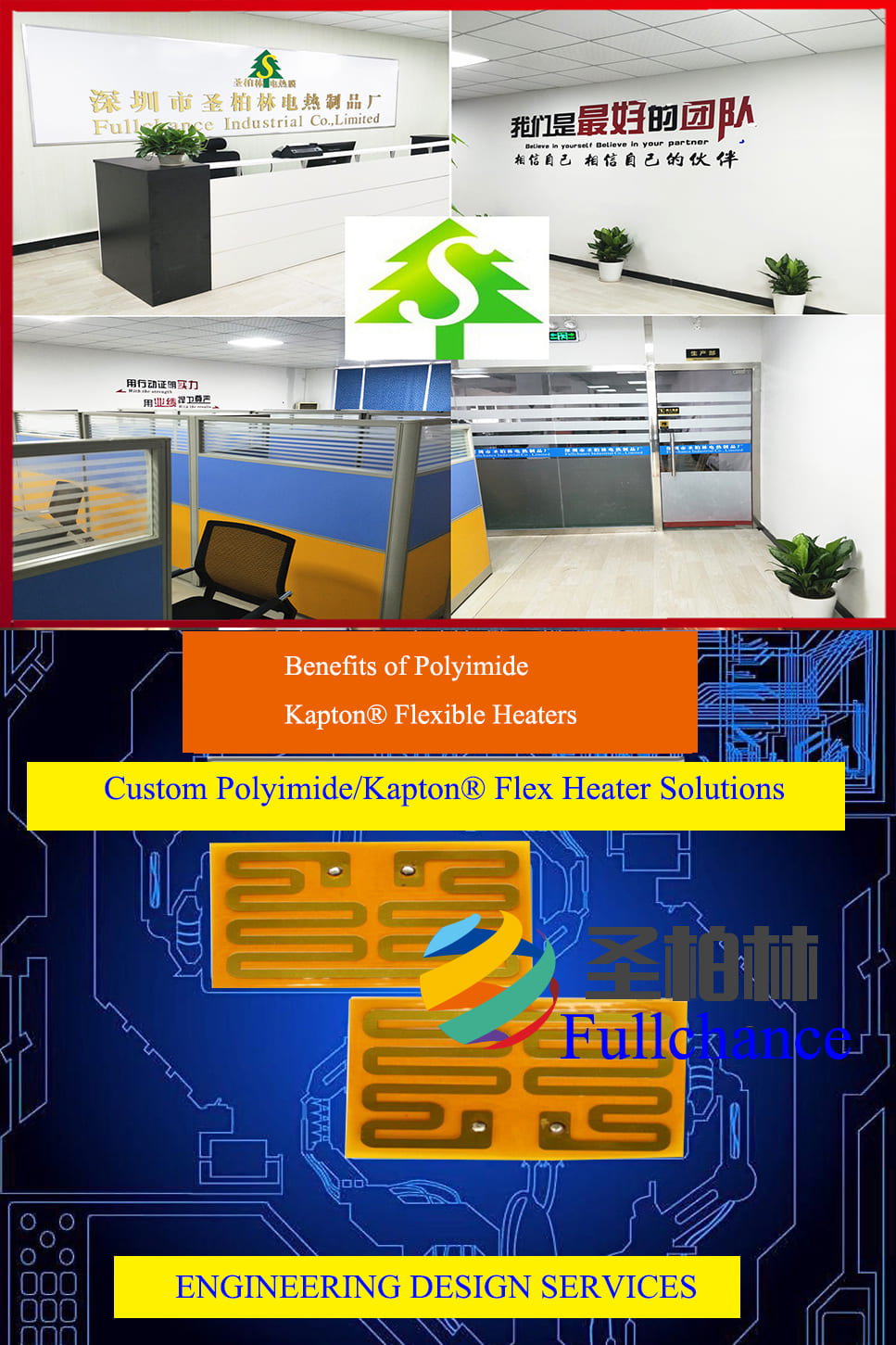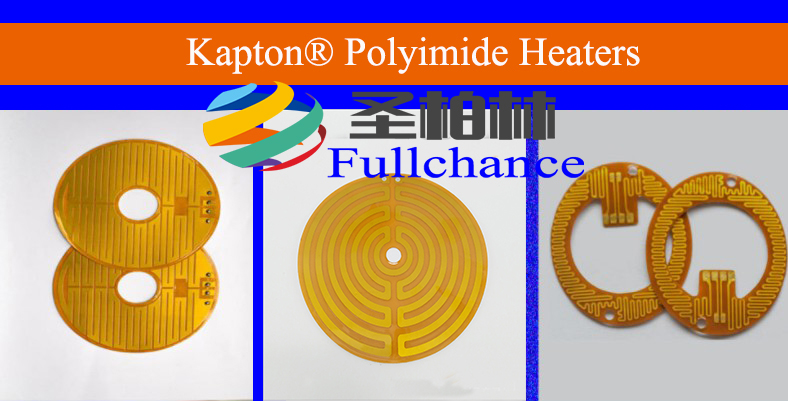 Introduction to Flexible Heaters
A flexible heater is made out of a stranded wire (mostly Ni-Chrome) or an etched foil sandwiched between layers of dielectric materials. The most common dielectric materials are Kapton, Silicone rubber & Mylar.
The choice of construction (wire wound or etched foil) and thermal conductor (Silicone Rubber or Polyamides like Kapton®) is determined by max temperature, Watts per square inch, overall weight (example: aircraft and airspace industry) and application.
Kapton® heaters are thin film heater manufactured in edged-foil construction (similar to circuit board manufacturing); Silicone rubber heaters are manufactured in edged-foil or wire-wound construction; the decisive consideration is the max watts per square inch needed. Mica band heaters are mostly wire-wound and very commonly used in a cylindrical shape to use around tubes and such.
All flexible heaters can be manufactured with many different lead wire configurations and nearly an unlimited choice of temperature sensors can be built into them. Flexible heaters with Watt densities above 5 watts per square inch cannot dissipate the heat through convection in still air alone, they would burn out and therefor need to be attached to a material acting as a heat sink.
Our Engineering staff can help you to select the right configuration for your application.
Kapton is a thin, semitransparent material with excellent dielectric strength. Kapton heaters are ideal for applications with space and weight limitations, or where the heater will be exposed to vacuum, oil, or chemicals.
- FEP internal adhesive for use to 200°C
- UL component recognition available
- Suitable for vacuum environments (NASA-RP-1061)
- NASA approved materials for space applications(S-311-P-079)
- Resistant to most chemicals: acids, solvents, bases (except NaOH)
- Radiation resistant to 106 rads if built with polyimide-insulated leads (custom option)
- Can be made in very small sizes
- Fluid immersible models available (not standard)
THERMAL INFORMATION
Polyimide/Kapton® heaters provide the thinnest profile option, typically having an overall thickness of under .007" excluding mounting adhesive. This thinness also enables reliable conformance to curved and irregular surfaces, with the ability to wrap as tight as .25″ radius.
The overall thinness of Polyimide heaters also permits the addition of a heater late in the design process. The low profile can be beneficial in fitting within component clearances or between features, not forcing changes in the overall package design.
Kapton heaters have a lower temperature threshold than Silicone heaters, peaking at 300F / 150C continuous, higher for short durations. Polyimide heaters, however, do have improved thermal transfer compared to silicone rubber and offer quicker response on thermal delivery to the surrounding mass. Fullchance has the ability to construct custom heaters using alternative and more exotic material so please speak with an application engineer if a higher temperature rating is required.
FLEXIBLE FOIL HEATING
Flexible foil heaters provide precise, dependable and immediate heat transfer for many applications.
Our innovation center is employed with highly qualified engineers continuously working with new applications and materials. This allows us to find the optimal heating solution to meet your needs and produce it quickly.
Our flexible heaters consist of an etched-foil laminated between one of our flexible insulations. Our flexible foil heaters also offer many more benefits including custom watt densities, various dielectric strengths, thin or thick profiles, added pressure sensitive adhesives (PSA) or bond directly to heat sinks.
SMART HEATER WITH INTEGRATED CONTROL