Silicone Rubber Heaters are used where an even application of heat over relatively large areas is desired.
Silicone Rubber Heaters utilize a heating element which consists of fine gauge, stranded and stress relieved wire, Nickel Chrome Iron or Nickel Copper alloys are used throughout for durable and reliable service.
A Conrad Silicone Heater may be permanently installed using adhesives applied by the customer.
Temporary or removable placement for purposes of maintenance, container cleaning, etc. is facilitated by the addition of hooks, eyelets, or Velcro® closure attached to the blanket for this purpose.
FullchanceSilicone Rubber Heating Blankets are qualified for applications not exceeding 392°F.
SPECIFICATIONS
| | |
| --- | --- |
| Temperature Rating | 400°F (204 °C) maximum operating |
| Size/Shape Limitations | Maximum width of 48", no maximum length |
| Thickness | ~0.06" (Single-Ply) ~0.12" (Dual-Ply) |
| Voltage | Any AC or DC |
| Wattage | Customer specified (Normal maximum of 5 Watts per square inch) |
| Power Lead wires | Silicone Rubber, SJ Power Cord, or Teflon insulated stranded wire |
| Attachment | Hooks, Lacing Eyelets, or Velcro® Closure. |
ORDERING INFORMATION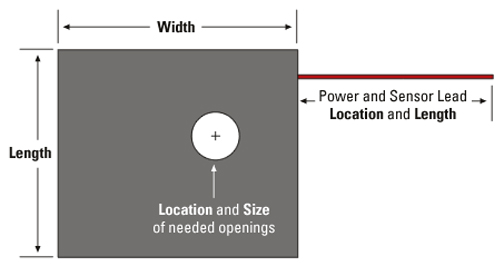 USEFUL INFORMATION
* Drawing with pertinent dimensions * - or - A description of item to be heated including open or unheated areas, special port or access requirements. * Voltage and Wattage (if known). * Temperature control method desired including addition of a thermocouple or other temperature sensors in heater.