Fullchance were originally designed for the aerospace and defense industries. Common were such applications as maintaining constant temperatures in the instrumentation of aircraft, satellites, navigation, guidance and radar equipment. The versatility of this product has since been widely recognized as thousands of uses have been discovered.
Fullchance are regularly specified because of their light weight, thin profile, low thermal mass and flexibility. The abilities to provide an infinite array of patterns and concentrations of heat are additional characteristics. Complex shapes, contours and three-dimensional patterns are possible. Many mounting methods are available for the application of Fullchance.
Aerospace Composite Bonding

Floor Processing Equipment

De-icing and Anti-icing Equipment

Outdoor Electrical and Electronic Enclosures Oil Pumps and Reservoirs

Aircraft Galley Equipment

Electric Motor Dehumidifying

Medical, Laboratory and Veterinary Equipment

Automobiles and other Vehicles

Freeze Protection for Drains in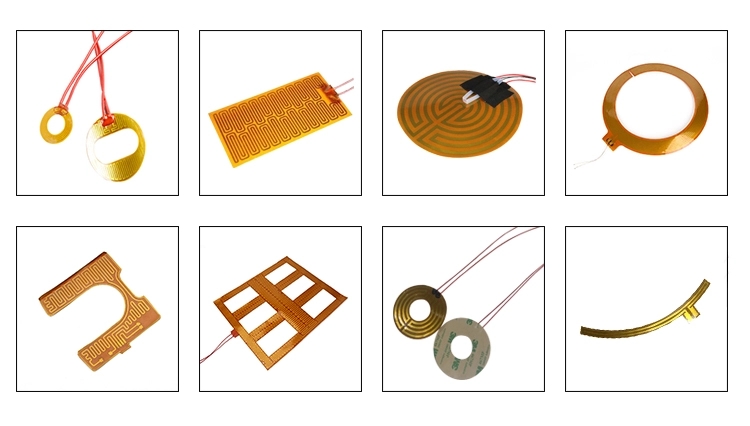 Fullchance are especially thin and light weight, yet resistant to tearing and cuts. Kapton is an organic polymer that has high dielectric capabilities and tensile strength. Temperatures from -328 to 390°F (-200 to 200°C) are possible while providing a high resistance to many solvents, oils, radiation and fungus. Because of very low outgassing properties, Fullchance are suitable for use in high vacuum applications. Standard bonding methods can be applied. Being transparent adds to Kapton's versatility.
Other sheath materials such as Neoprene, Mica and Mylar are available.
Being transparent, Kapton® film also allows easy visual inspection on the internal structures. Pressure-sensitive adhesive (PSA) backing surface is standard, but we will customize your Kapton® heaters with special adhesives or mounting holes, as the application requires. Mechanical fasteners such as hooks, grommets, spring-loaded latches, snaps and Velcro® patches are also available. Minimum radius flexibility 1/32" (0.88mm) standard with weight of 1 1/2oz/ft² (0.05g/cm²).