Fullchance has established a management system to deliver the good quality products through the all development, manufacturing and sales phases.Fullchance is committed to continually improving the system by implementing PDCA cycles, and is committed to continually providing quality that leads to the peace of mind and satisfaction of customers.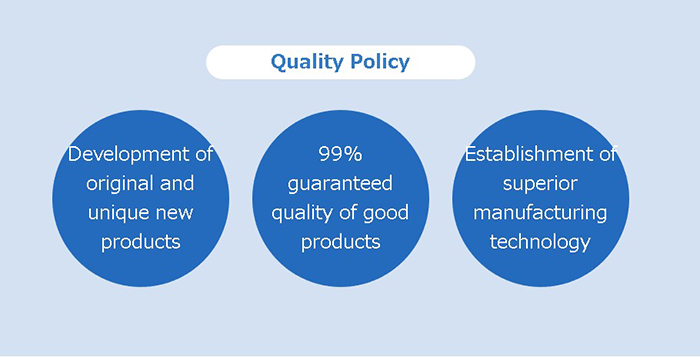 Quality improvement
concept and approach
Ensuring product safety

We comply with international standards, laws, and regulations of each country, and employ product design to ensure sufficient safety in order to prevent any accidents.

Establishment and operation of a quality management system

We will maintain and develop a system to deliver quality products that leads to customer security and satisfaction by establishing and operating a quality assurance system, which covers all aspects of our organization, including manufacturing.

Measures to Address Customer Feedback

Our customers' valuable opinions and requests regarding the quality, delivery time, costs, and other aspects of the Fullchance's provision are shared by all relevant parties, including top management. All necessary measures will be implemented to improve customer satisfaction and Fullchance's existence value.

Human resources development activities

As part of creating a system to deliver good quality, we are developing human resources mainly by OJT through the operation of the quality management system, strengthen the basis of the operation of the quality management system, and improve the self-education of employees. In addition, we are working on human resource development not only for hands-on experience, but also capable of responding to different cultures and achieving results through the transfer to overseas bases in the Fullchance group

QC (Quality Control) Circle Activities

In order to improve quality in the workplace as part of achieving good quality overall, we are conducting voluntary quality improvement activities called QC circle activities. In addition, the results of quality improvement activities are announced at our annual presentation meeting held for the selected offices and facilities in order to improve the evaluation system and motivation of our staff.